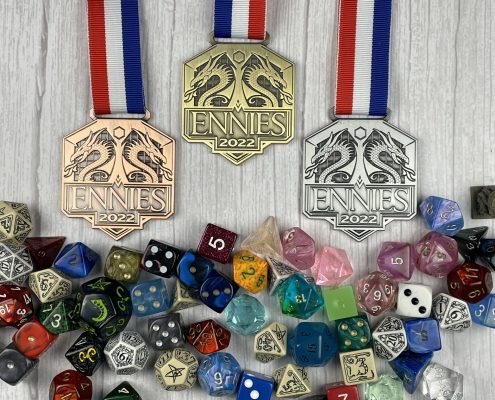 This week, Morrus, Peter, and Jessica talk about the 2022 ENnie Awards! In the news, new Lord of the Rings 5e RPG from Free League, new Warhammer 40K RPG from Cubicle 7, new edition of 13th Age from Pelgrane Press, Gen Con may be moving from Indianapolis, and more! Plus Five Minutes at Gen Con with Egg Embry and brand new sketch about bluffing your way out of being caught red-handed.
--------------------
News
Dungeon Delver's Guide from EN Publishing Kickstarter Pre-Launch Page https://www.kickstarter.com/projects/enworld/dungeon-delvers-guide-a-sourcebook-for-5e-and-a5e?
News Digest for the Week of August 12 (Gen Con possibly moving from Indianapolis, Mythic Britain and Ireland for Vaesen, Yawning Portal board game, ) https://www.enworld.org/threads/news-digest-for-the-week-of-august-12.690600/
Gen Con 2022 Draws Over 50,000 Attendees https://www.enworld.org/threads/gencon-2022-draws-over-50-000-attendees.690515/
ICv2 Reports on RPG Growth This Year https://www.enworld.org/threads/icv2-reports-on-rpgs-growth-this-year.690516/
13th Age Escalation Edition Coming in 2023 https://www.enworld.org/threads/new-13th-age-escalation-edition-coming-next-year.690495/
Free League announces Dragonbane https://www.enworld.org/threads/free-league-announces-dragonbane-the-translation-of-swedish-rpg-classic-drakar-och-demoner.690427/
Free League announces Lord of the Rings 5e https://www.enworld.org/threads/free-leagues-lord-of-the-rings-rpg-comes-to-5e.690506/
Uncharted Journeys from Cubicle 7 (announced in July but mentioned in the show) https://cubicle7games.com/uncharted-journeys-the-journey/
Warhammer 40K Imperium Maledictum from Cubicle 7 https://www.enworld.org/threads/d100-based-wh40k-imperium-maledictum-announced.690455/
Broken Weave 5e setting from Cubicle 7 https://www.enworld.org/threads/broken-weave-is-a-tragic-fantasy-setting-from-cubicle-7.690511/
Battlezoo Eldamon Monster Training and Year of the Monsters https://www.kickstarter.com/projects/rollforcombat/5e-pf2-monster-training-and-year-of-monsters
Cute Creatures Compendium https://www.kickstarter.com/projects/catilus/cute-creatures-compendium-by-catilus
Oneironaut by Cesar Capacle https://capacle.itch.io/oneironaut
Pelgane Press Website https://pelgranepress.com/
--------------------
2022 ENnie Awards
2022 ENnie Award Winners https://www.enworld.org/threads/heres-who-won-ennies-this-year.690474/
ENnie Awards Live Stream Archive https://www.youtube.com/watch?v=CMtwgU8pJI0
ENnie Awards Process and FAQ https://ennie-awards.com/awards-process-and-faq/
2023 ENnie Submission Form https://ennie-awards.com/new-submission/
-------------------
Please support us on Patreon at http://patreon.com/morrus
Don't forget to join the Morrus' Unofficial Tabletop RPG Talk Facebook group at https://www.facebook.com/groups/1033145023517295/ and join us on Discord at https://discord.gg/VAuxX8M
Ask your Awfully Cheerful Question on Twitter using the hashtag #AwfullyCheerfulQuestion, email morruspodcast@gmail.com, or contact us on TikTok at https://www.tiktok.com/@enpublishingrpg
--------------------
Hosts: Russ "Morrus" Morrissey, Peter Coffey, and Jessica Hancock
Editing and post-production: Darryl Mott
Theme Song: Steve Arnott
Malach the Maleficent played by Darren Morrissey
Check out all the media content from EN World at http://enliverpg.com
Play Now